Udder-ly Amazing Chocolate Assortments Under $40
Share a taste of Sonoma with your loved ones!
The Chocolate Cow's Featured Favorites
Try two of our favorite signature chocolates – Peanut Butter Cups & Cow's English Toffee
Classic Chocolate Peanut Butter Cups
No bull, our JUMBO handcrafted Chocolate Peanut Butter Cups will have you craving moo-re with each bite! The perfect union of rich Belgium chocolate and creamy peanut butter - it's sure to be a crowd-pleaser.
shop peanut butter cups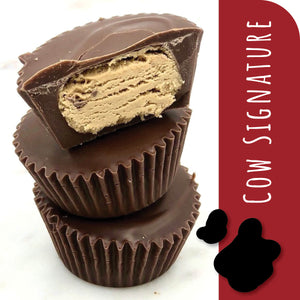 Cow's English Toffee
Delight in the smell and taste of roasted buttery confection with a layer of smooth milk chocolate and lightly toasted almonds.
shop cow's english toffee
Shop Our Handcrafted Collections
---
Sonoma's place to graze
The Chocolate Cow is a family run business delighting locals and visitors for 30 years in Sonoma Valley.

Located in the heart of California's wine country, on the historic Sonoma Plaza, it's known for its small batch of artisanal chocolates handcrafted by a father and son duo. 
We are now excited to offer a selection of our most popular chocolates for shipping nationwide.

Self-indulge with a decadent taste of Sonoma or send as a memorable gift!
learn more > visit our sonoma store website @thechocolatecow.com